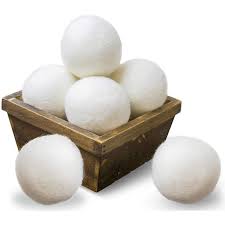 size: approximately 2 oz.
made of 100% new zealand wool, these extra large wool dryer balls are an eco-friendly way to soften clothing for every member of your family. wool dryer balls also help the air circulate throughout your laundry and help reduce static. all-natural and chemical-free, you can replace dryer sheets with this reusable alternative. each ball lasts for up to 1,000 dryer loads.
adding a few drops of essential oils helps to freshen the load!

directions: once you load your freshly washed laundry into the dryer, toss 1-2 wool dryer balls into the dryer. to help create a naturally fresh scent, add 3-4 drops essential oils to a dryer ball during the last 15 minutes of the drying cycle when the dryer air is cool.